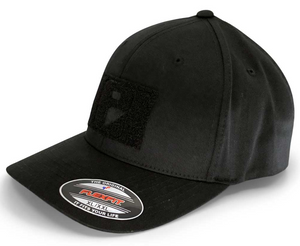 Premium Curved Visor Pull Patch Hat by Flexfit XL/XXL - Black
The Premium XL/XXL Curved Visor Pull Patch Hat By FLEXFIT is a classic!
The pioneer of stretch-fit caps, Premium Curved Flexfit® Hats by Pull Patch are the first to be patented with the stretchable technology on fitted caps. This revolutionary invention redefined comfort and style in the headwear industry even to this day.
This cap features 8 rows of stitching with the silver under visor. It is a 6-panel cap that has a premium wool-blended fabric promoting simplicity and refinement. A hard-buckram front helps the hat hold its shape under the harshest conditions.
Key Features
Fabric: 64% Polyester / 34% Cotton / 3% PU Spandex
Front:  Pull Patch Loop Patch. Works with Velcro®
Back: Authentic FLEXFIT Stretch Fit
Profile:  Mid
Crown:  3 1/2 Inch
Visor:  Curved
Panels:  6
Size: 7 3/8" to 8"
Care Instructions
Fill a clean sink with warm water; add a tablespoon of laundry detergent; Spot-clean hat as needed; soak hat for a couple of hours; Rinse the soap off with warm water; Pat down with a towel to get rid of excess moisture; Air dry.
Do not iron design
PATCH THAT HAT

Pull Patch tactical operator hats are specially designed for displaying your favorite morale patches. If you don't have a patch, don't worry as Pull Patch offers 1000s of fun, cool and clever designs to choose from (sold separately), which all are customized to fit this baseball cap's 3" x 2" patch surface.

PATCH ATTACH

All Pull Patch hats have our brand's authentic hook and loop fasteners which are compatible with VELCRO® fasteners. Easily attach one of our Pull Patches which are designed with a built-in hook backing, so they can be secured easily to the hat's loop surface.

WEAR MANY HATS

Whether your cap style leans more towards dad or trucker, curved visor or flat, Pull Patch has a hat, or two, or three, for you! We offer a large selection of many styles and colors to choose from. Premium quality caps are made of superior quality materials and offer ultimate durability and fit. All Pull Patch caps are one-size-fits-all, washable, and are made in and shipped from the USA.

PASS THE HAT

When it comes time for giving, consider the gift of a Pull Patch hat. We carry styles geared towards men, women, and kids, and of course, patches to match all personalities!

IF YOU DON'T LIKE IT, WE'LL MAKE IT RIGHT

At Pull Patch, we stand 100% behind the quality and integrity of our products and aim to offer the best possible customer service. If for any reason, you are not super thrilled with your purchase, let us know within 30 days and we'll send you a free replacement or refund your order.